FREE: Learn How to Improve Your Smile Without Leaving Home
Here are three easy steps for an at-home video consult. Learn about the possibilities for improving your smile – try it now!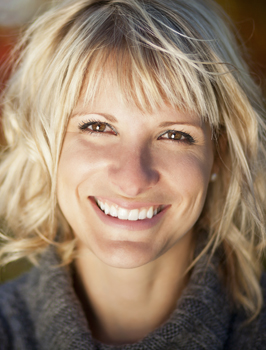 A great smile can make a phenomenal first impression. It projects an air of confidence, charisma, and being completely collected.
Unfortunately, perfect teeth often seem like something that only the rich and famous can achieve. A Hollywood smile can seem pretty unattainable for the rest of us.
Well, our office is here with some great news: dental veneers are affordable, accessible, and able to give your smile the extra oomph that you've been looking for.
What is a Dental Veneer?
Veneers are one of the most popular procedures in modern cosmetic dentistry. Simply put, they are a way to correct any minor snaggles, gaps, or staining without complicated orthodontia.
The veneer itself is a very thin shell of dental-grade porcelain that is layered over the front of your teeth. This layer is designed to camouflage any minor imperfections, cover awkward gaps, and straighten the look of your smile.
Best of all, it can be done with precision-scanned digital molds of your mouth and in-house crafting, all of which make the process faster and easier for you.
Why Should I Get Teeth Veneers?
Dental veneers come with a number of amazing benefits:
Solves Cosmetic Imperfections – Porcelain dental veneers are an extremely versatile cosmetic dentistry procedure in that they solve common teeth imperfections such as teeth that are worn down, chipped, broken, misaligned, irregularly shaped, or those with gaps.
Customized To You – For one thing, they can be crafted to the exact whitening shade you choose. This custom crafting doesn't stop with color, either. With current dental technology, we are able to create these teeth veneers to perfectly and precisely fit your mouth. Your smile will be the opposite of mass-produced.
Long Lasting – The shell of porcelain creates a sturdy, long-lasting layer of protection between your teeth and the outside world. Dental veneers should last between 10 and 15 years with proper care.
High Quality – We craft our veneers for teeth using only the highest quality porcelain materials. Porcelain allows us to recreate a tooth's natural color and translucence. Your veneers will last and look so natural that people you meet won't even be able to tell that you're wearing dental veneers.
How Much Do Dental Veneers Cost?

The cost of porcelain veneers depends on the number of teeth being treated. When analyzing veneers as a potential dental treatment based on cost, you must take into account their longevity and quality. Porcelain veneers may cost more than than other cosmetic dentistry procedures but they also last longer and retain their cosmetic appeal for longer as well. This is due to the high quality materials that we use to create them.
Contact Us For Porcelain Dental Veneers in Gibsonton, FL
Veneers are a great way to add some pizzazz to your smile, while also keeping them safe and healthy. Call, text, or email us for more information about this amazing cosmetic dentistry treatment. We serve patients throughout Gibsonton, Apollo Beach, and Riverview, FL!
Related Content