Tooth Replacement South Tampa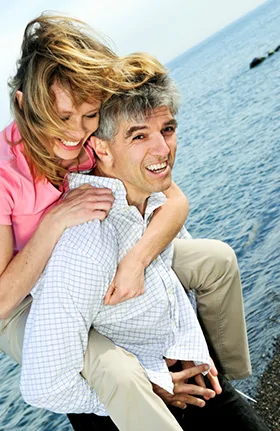 Missing teeth can be a serious inconvenience in someone's life. Not only can they make biting and chewing harder, but the gaps also affect clear speech. On top of that, when a tooth root is missing, the jawbone starts to recede.
All in all, missing teeth can create a complex series of difficulties. Fortunately, these are difficulties that you don't have to live with. There are several options for filling those gaps, and all of them have some great advantages.
One of the most popular of these options is the dental implant.
Dental Implant Procedure
Simply put, dental implants are a great way to replace your entire tooth with a synthetic structure.
This tooth replacement starts with a titanium post which is placed into your jaw right where the natural tooth root once was. This post acts as a new root, which keeps the jawbone healthy as well as supporting a new dental crown.
The crown itself provides a new chewing surface. It is anchored securely onto the implant post, which allows it to look, feel, and act like exactly like a natural tooth.
The Benefits of Dental Implants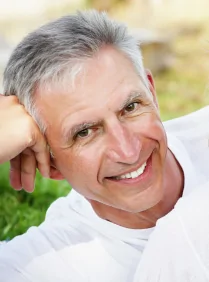 Natural Looking – Dental implants are essentially indistinguishable from an actual tooth. Our patients enjoy a renewed sense of confidence thanks to the dramatic improvement to their smile that a tooth implant brings.
Longevity – Tooth implants have been proven to last for decades, making this procedure a long-term investment into the continued health of your mouth. That isn't the only benefit, however.
Customized To Your Needs – The crowns attached to the top of your implant are custom-designed. This means that they are not mass-produced. Your crown will be completely unique, being crafted to precisely fit your mouth and match your adjacent teeth.
Easy Maintenance – Implants are also easy to maintain. They can be cared for just like a natural tooth. Regular flossing, brushing, and dental checkups should keep both your implant and your natural teeth looking and feeling healthy for years to come.
Maintains a Youthful Appearance – Dental implants support and maintain the structural integrity of your jaw. They help you retain bone tissue to prevent bone loss, preventing your face from collapsing and looking old.
How Does the Tooth Implant Process Work?
After meeting with Dr. Kernagis to determine that you are indeed a candidate, the first step of the implant process involves carefully positioning the implant into the jawbone. Over a few months the implant will fuse with the jawbone. Next, a ceramist will create the replacement crown. Finally, the replacement crown is placed on top of the implant.
Get a Tooth Implant Consultation in South Tampa
Dental implants can be an amazing solution for anyone who is missing one or more teeth. If you are interested in finding out more, please feel free to ask us any questions you might have or to schedule an appointment. We help patients throughout Gibsonton, Apollo Beach, and Riverview with advanced dental implant technology.
Related Content